Advice and Training – Training/Education
Arboricultural qualifications explained: A brief guide to Academic, Vocational, Competency and Work based awards in Arboriculture,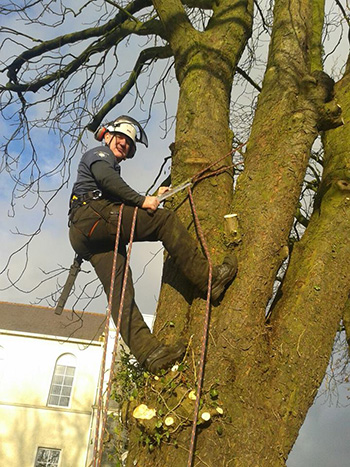 Academic
Higher level arboricultural qualifications are usually studied full or part time through a college or university. Usually classroom based, they are commonly assessed through formal exams or externally moderated coursework.
Vocational/Centre Based
These qualifications tend to be delivered within a college environment and provide a mix of hands-on practical learning alongside applied classroom-based theory. They prepare people for employment within the industry at various levels, or for progression onto higher level qualifications (Academic). They offer a mix of practice and theory and often include work experience. Some cover a broad range of content whilst others can be specific to a particular task or activity. They are commonly assessed by your tutor as you progress through the course, through practical assessment and coursework.
Competence-based
Sometimes referred to as 'licence to practise' qualifications, these tend to be award-sized qualifications and are usually delivered as short, intensive practical courses. They include chainsaw use, tree climbingand aerial tree work, machinery operation (e.g. brushwood chippers, stump grinders, mobile elevating work platforms) and specific skills (e.g. planting, cable bracing, hand tool pruning), as well as specialisedutility arboriculture qualifications for work near power lines and electrical equipment. It is a legal requirement that anyone working must be adequately trained and competent, and in some cases, such as using chainsaws, you must pass a competence-based test/qualification.
Visit the NPTC website for information on Chainsaw certificates ; https://www.nptc.org.uk/qualificationdefault.aspx
Work-based
Apprenticeships are government-funded training programmes aimed primarily at young people and reflect what employees are expected to do in a particular job. They offer the opportunity to 'earn and learn' – to learn the skills needed through a combination of on- and off-the-job training whilst being employed. Apprentices usually undertake a Diploma in Work-based Trees and Timber, along with further qualifications in English and mathematics.
See the Lantra website for more details:
www.lantra.co.uk/apprenticeships or email apprenticeships@lantra.co.uk or telephone 02476 696996.
Training is available from a number of sources including land-based colleges and independent trainers.
For more information on Careers and Qualifications in Arboriculture please contact the Arboricultural Association or download their free guide 'A guide to careers and qualifications in arboriculture'. (http://www.trees.org.uk/aa/documents/training/aa_guide_to_qualifications_web.pdf)
Training providers:
TKF Training - Careers in Arboriculture
TFK Training Chainsaw Courses West Yorkshire
Kingswood Training Chainsaw Courses Kent
Lantra Chainsaw Training Course Coventry
https://www.treelifeac.co.uk/level-4 - Part time learning options to gain a Level 4 in Arboriculture, spread over 1 or 2 years.
https://www.thetrainingtree.co.uk/professionalcourses- Part time and on line Level 4 In Arboriculture. Flexible options
Arboricultural colleges and Universities:
Merrist Wood College Arb & Forestry Course Guildford, Surrey
Hadlow College Forestry & Arboriculture Course Tonbridge, Kent
Capel Manor College North London
Plumpton College Forestry & Arboriculture Course East Sussex
Sparsholt College Arboriculture Course Winchester, Hampshire
Warwickshire College Arboriculture Foundation Degree Warwick, Warwickshire
Moulton College Arboriculture Course Moulton, Northamptonshire
Bridgewater & Taunton College Arboriculture Course Bridgewater, Somerset
Writtle University College Arb & Chainsaw Course Chelmsford, Essex
Easton College Arboriculture Course Norwich
Otley College Arboriculture Level 3 Course Otley, Suffolk
Reaseheath College Forestry & Arboriculture Course Level 3 Nantwich, Cheshire
Pershore College Arboriculture Foundation Degree Pershore, Worcestershire
Northumberland College Forestry & Arboriculture Level 3 Ponteland, Northumberland
East Durham College Tree Surgery & Forest Management Course Durham
Bedford College Various Ariel and Chainsaw NPTC Courses Bedfordshire
Askham Bryan College Arboriculture Foundation Degree York
Chichester College Forestry & Arb Level 3 West Sussex
Hereford & Ludlow College Forestry & Arb Level 2 Hereford & Shropshire
Derby College Diploma in Arb & Forestry skills Level 2 Derby
Bicton College Forestry & Arboriculture Diploma Budleigh Salterton, Devon
Brooksby Melton College Felling & Processing Trees Leicestershire
Kingston Maurward College Arb & Chainsaw Courses Dorchester
Myerscough College Arboricultural Courses Preston, Lancashire
Shuttleworth College Arboriculture Courses Bedfordshire